Troy Shadow X3 Reviews, Price and Specifications
All-Purpose Land Metal Detector
Retail Price: $899.00
Number of Reviews: 1
Avg. Rating (5.0 Stars)

Email to a friend.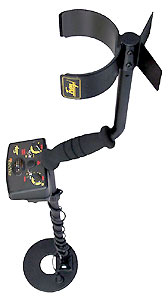 Specifications:
Ultra-Light Weatherproof Design
Weight: 2.2 lbs With Battery
Turn-On-and-Go Operation
Fixed Pre-Set Ground Balance
Silent Search Operation
VLF Fast Response
Target Check
VCO Pinpoint (Non Motion)
Audio Discriminator: Full Range (All-Metal)
Operating Frequency: 19 kHz
Frequency Shifter: 170 hz Above and Below 19 kHz
Standard Search Coil: Waterproof 7-Inch Round Concentric Donut
Search Coil Compatibility: 9-Inch Accessory Round Concentric and Future TCD Accessary Coils
Coil Cable Length: Approximately 3 ft 6 Inches (42 Inches)
Audio Frequency: Approximately 550 Hz
Audio Output: 1-1/2 inch Weatherproof Speaker and a 1/4 inch Weatherproof Headphone Jack
Battery Requirement: Single 9 Volt (Alkaline or Lithium)
Battery Life (Typical): 25 Hours (Alkaline); 50 hours (Lithium)
Battery Compartment: Drop-In Weatherproof (No Wires or Connectors) Holds Alkaline or Lithium
Battery Door: Weatherproof with Positive Lock Fastener
Battery Test: On-Demand Variable Audio Tone
Control Housing: Internal RFI Shielding and Weatherproof
Pushbutton Switch: Weatherproof
Toggle Switches: Weatherproof With Internal 0-Ring in Actuator
Control Knobs: With O-Ring and Tension Adjustable
Optimum Temperature: 30 to 100 degrees F
Optimum Humidity: 0 to 100% R. H.
Rod Design: 3 Piece Knock-Down with Locking Ring Stabilizers
Arm Cup: Anodized Aluminum; Adjustable, Forward and Backward and To Arm Size
Warranty: Limited Lifetime
Briliant Machine
Michael Pond in christchurch dorset u.k. -

This detector outperformes many top machines on Roman sites. The Troy X3 is not just land metal detector. It's good on Dorset beaches and wet sand unlike some compicated ground balancing machines. On land, I discovered 52 silver roman coins and donated them to Hampshire museum.
Aug 20, 2010
87 people found Michael Pond 's review helpful.