Troy Shadow X2 Reviews, Price and Specifications
All-Purpose Land Metal Detector
Retail Price: $799.00
Number of Reviews: 2
Avg. Rating (5.0 Stars)

Email to a friend.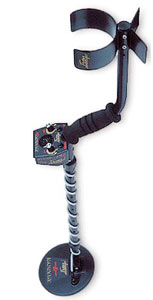 Specifications:
Ultra-Light Design Only 32 oz. (2 lbs)
Turn-On-and-Go Mineral Free Operation
Silent Search Discrimination Mode
VLF fast Response Discriminate Mode
Operating Modes Discriminate, Coin Check and Pinpoint
Operating Frequency 9.6 - 10 khz
Search Coil Type 7 Inch, Thin Profile, Round Concentric (Waterproof)
Search Coil Compatibility Compatible With all Tesoro All-Purpose Coils
Cable Length Approximately 3 FT
Audio Frequency Approximately 600 hz (With Depth Perception)
Audio Output 11/2" Speaker and 1/4" Headphone Jack
Headphone Compatibility Standard 1/4" Inch Stereo Plug
Battery Requirement Single 9 Volt (Alkaline)
Battery Compartment Drop-In (No Wires or Connector)
Battery Life (Typical 20+ Hours)
Pushbutton Switches Mud Proof
Optimum Temperature Range 30o To 100o F
Optimum Humidity 0 To 75 % R.H.
Rod Design 3 Piece Knock-Down, With Locking Rings
Arm Cup Adjustable, With Detector Stand
Warranty Lifetime by Tesoro
Great Detector
Jerry Hodges in usa -

Hi people! )I have owned the Shadow X2 for about 6 years and found at least 10 rings, 8 watches, lots of pennies - to much to list. I would say I have found at least 500 dollars in coins, some very old. This is a great detector! My back is out, and unfortunately I have to give up the hobby. I wish I didn't! Good luck to all!
Aug 23, 2010
26 people found Jerry Hodges's review helpful.
Excellent detector! I wish I still had one!!!
Tom Kamrowski (SgtSki in MI) in Camp Victory: Baghdad, Iraq -

The Shadow X2 is an excellent detector. I received one second-hand when I got back into "serious" metal detecting in 2002. It was developed by Troy Galloway of Troy's Custom Detectors and was manufactured by Tesoro. It is essentially a modified Silver Sabre uMax but all similarites end there. It is an very easy-to-use, lightweight detector, and with headphones will run a VERY long time from a single 9v battery. Its controls are simple with a sensitivity knob, a discrimination knob, and a no-motion pinpointing button. One more button of note is "Coin Check." This is a great tool for checking a target while hunting with little or no discrimination. It will apply a preset dicrimination to the system to cancel out all but copper or silver. One tweak that I did to this circuit was to adjust the potentiometer (inside the control box). I took several examples of dug Indian Head Cents along with dug and pocket specimens of zinc pennies. While air-testing with these samples, I was able to adjust the "Coin Check" circuitry so that it would accept most IH's and reject most zinc pennies. This isn't a foolproof adjustment, but it significantly turned my IH-to-zinc ratio in my favor. This machine was also a first-choice of many relic hunters until the advent of the Shadow X3 and X5, and several X2's are still out there in use. The fact that you don't see many of them for sale secondhand attests to the performance of this detector. This detector came stock with a Shadow 7" coil, and there was a 9" Shadow Coil available as an option. Also, being made by Tesoro, it would also accept many Tesoro coils, although I only had the 7" stock coil. I have since moved on to other detectors, but there are times when I'm out swinging my Explorer XS that I wish I still had Troy Shadow X2. If you can find one for sale, I highly encourage snatching it up. If you wind up not liking it, I guarantee that there will be lots of people willing to take it off your hands!
Dec 31, 2007
87 people found Tom Kamrowski (SgtSki in MI)'s review helpful.