Tesoro Tiger Shark Reviews, Price and Specifications
Underwater/Surf/Beach Metal Detector
Retail Price: $749.00
Number of Reviews: 1
Avg. Rating (5.0 Stars)

Email to a friend.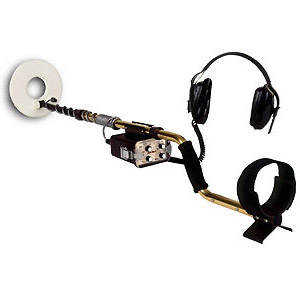 Specifications:
Operating Frequency: 12.5 kHz
Searchcoil Type: Round, open center concentric
Searchcoil Size: 8" diameter
Audio Frequency: Approx. 270Hz
Audio Output: Stereo Piezo Headphones
Weight: Less than 4 lbs.
Battery Requirement: Eight AA DC (alkaline)
Battery Life (at preset): 10 to 20 hours
Optimum Temp. Range: 30° to 100° F
Operating Modes:
No-Motion All Metal - (Fast and Slow Tune)
Normal Mode
Salt Mode
Silent Search Motion Discrim-inate
Maximum Depth Rating: 200 ft.
Lifetime Warranty
Tiny Gold is Never a Problem.
Terry Blow in Roulette, Pa. -

I have found that the Tigershark is incredible at sniffing out very small targets. Once set up, seal the case and don't try to 2nd guess, it will operate for many hours without adjustment. Searching in many lakes, ponds and rivers have been very rewarding; the finds included a huge German silver broach and many rings, coins and jewelry. The lifetime is the best warranty and is the frosting on the cake. And Tesoro has the best, most accommodating personel I've ever seen.
Mar 21, 2009
129 people found Terry Blow's review helpful.