Minelab GPX-4000 Reviews, Price and Specifications
Gold Nugget/Prospecting Pulse Induction (PI) Metal Detector
Retail Price: $4,500
Number of Reviews: 2
Avg. Rating (5.0 Stars)

Email to a friend.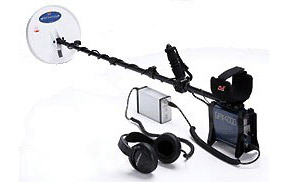 Specifications:
Weight Complete with 11" coil (excluding battery and accessories): 2.4 kg (4.8 lbs)
Configuration: Shaftmount: 2-piece shaft
Technology: Dual Voltage (DVT) and Multi-Period Sensing (MPS)
Transmission: Bi-level Pulse Induction
Search System: Motion Detector
Headphones: Supplied 1/4" socket, Koss; 100ohm
Coil (Standard): 11" Double D
Battery: Lithium Ion, 9.2ah: 7.4v (Weight: 870g)
Battery running time: 12 hours +
Battery Charging System: Mains and 12v vehicle
Search Modes: Patch / General / Deep
Soil / Timings: Sensitive / Normal / Salt
Ground Balance: Fixed / Tracking
Ground Balance Speed: Slow / Medium / Fast
Ground Balance Type: General / Specific
Motion: V-Slow / Slow / Medium / Fast
Response: Normal / Inverted
2 years Warranty for Electronic Box
1 year Warranty for Coil
2 Meteorites found on first day!!!
Kevin Thomas in Prescott Valley, Arizona USA -

I bought this metal detector on Saturday and on Sunday went to a friends claim in the Bradshaw mountains to familiarize myself with it. Within 2 hours I found 2 iron nickel meteorites. I had found a meteorite in this area 2 years ago with a Goldmaster II so I had a "known" location to work. This detector picked up the 2 additional meteorites in the same area I had searched 2 years earlier!!! I am beyond happy with this metal detector. Goes deep.
Nov 15, 2011
12 people found Kevin Thomas's review helpful.
Great Detector
Guest in Australia -

This is a great machine but lacks sesitivity to small gold because it is an PI detector, the main claim to fame is that it works in highly iron mineralised ground. In zero to moderatly mineralised ground a Good VLF detector with similar power output and coil size will out perform it in all respects with the exception that it is not as sensitive to some hot rocks as VLF's can be. Regards, Goldfinder
Apr 18, 2008
109 people found Guest's review helpful.