Tesoro Compadre Reviews, Price and Specifications
All-Purpose Land Metal Detector
Retail Price: $189.00
Number of Reviews: 6
Avg. Rating (5.0 Stars)

Email to a friend.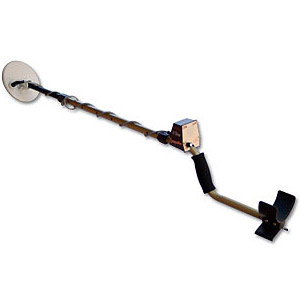 Specifications:
Operating Frequency: 12 kHz
Searchcoil Type: Round concentric, hardwired
Searchcoil Size: 5.75"
Cable Length: Approx. 3 feet
Audio Frequency: Approx. 630 Hz
Audio : 1-1/2 inch speaker and headphone jack
Headphone Compatibility: 1/4" stereo plug
Weight: 2.2 lbs.
Battery Requirement: One 9 volt DC (alkaline)
Battery Life: 10 to 25 hours
Optimum Temp. Range: 30° to 100° F
Optimum Humidity: 0 to 75% R.H.
Operating Modes: Silent Search Discriminate
Lifetime Warranty
Best for less
Herb Jones in New Orleans, La. USA -

For less than 200 dollars, you simply can not find a better detector. And these can be had for less than 100 bucks used all day long. They now offer an 8 donut coil as an option. If you are considering it as an option, you can get a decent used one or a new one for 169 dollars. You will never regret that purchase.
Jan 05, 2018
0 people found Herb Jones 's review helpful.
If Everyone Knew Of The Compadre's Capability!
Mike in Greensburg/Mt. Pleasant, Pa. -

I have been in and out of metal detecting since 1980. I have used several brands of detectors over the years but, for some reason, never got around to Tesoro. I really don't know why but I sure do regret that I did not. This year, the Compadre so impressed me, even though it is Tesoro's least expensive model, that I have really become a fan of Tesoro.
My first Tesoro ($100.00) was a Cutlass II mMax (was used but looked like new). I needed a rubber washer set for the lower stem to keep the search coil steady, and when I emailed Tesoro and mentioned that I wanted to purchase them the fellow said, "not to worry" and he would send them out to me. He did, plus the bolt and nut - no charge. That was an impressive introduction to Tesoro's customer service and the Cutlass II mMax's performance for about 3 days was also impressive. I loved it. Since the Cutlass II mMax worked so well and was so inexpensive, I kept my eyes open for another. I have 2 now.
Also, I wanted to check out the Tesoro Compadre because it has a smaller 5.75 inch search coil. (I was looking for a very small detector so that I would have one in my light-weight cloth backpack all the time. I spend a lot of time in various backwoods and always carry that backpack when foraging for wild edible mushrooms and plants.) I have in the past run upon areas where I wished I had a detector with me and I am getting tired of regretting such occasions.
I got a deal on a used Compadre for $75.00 and after receiving it fell in love with it too. Like I said, I wanted something ultra light weight that I could throw in a light-weight cloth backpack. But I also wanted something that, in spite of being inexpensive and very light weight, was very capable of detecting like a more expensive model of detector. I sure would not keep my White's V3i or Garrett Master Hunter ADS III, and their search coils, in my backpack all the time and lug them around.
The Tesoro Compadre fits the bill perfectly. It has one control, weighs barely over 2 pounds, scrunches down enough to fit the pack, runs forever on one 9 volt battery and has proven itself to me by finding pennies and dimes regularly to six inches.
Now when I throw the pack on my back to start my wanderings I know that should I run across a site in the middle of nowhere that needs some investigating, I have something that is very capable of scouting out the place.
Because it is so light weight, you can swing it all day long with no fatigue. And it pinpoints precisely; notwithstanding that there is no pinpointing function. That's because the 5.75 inch concentric coil is small enough and precise enough to be able to let you know where the item is located under it, unlike the large DD coils of the expensive detectors. A couple of quick X's over the response and there it is. No need for a Pin Pointer.
If everyone knew of the Compadre's benefits this detector would be really sought out.
I have 2 now. Keeping my eye open now for a Deleon.
Jun 25, 2011
26 people found Mike's review helpful.
Don't Be Fooled By the Price!
Dennis in Belleville, IL USA -

I haven't been able to go out with mine yet (just bought it), but the air tests are really good - it detects dimes at nearly 8", quarters, half dollars, and silver dollars even deeper. The discrimination is excellent. It picks up on small gold like crazy (picking up a very small picker nugget that I got from gold country at 3.5"). Odds are if there's silver, copper or gold under your foot this detector will find it. It's a keeper for sure! At two pounds in weight, it's incrediby light. Hard to beat, and for the money, I don't know of any MD that can touch it - I chose this over the Ace 250 and F2. This machine is a winner! Disassemble and it's great for backpacking. Super easy to opperate with a minimal learning curve. The ED-180 circuitry gets the job done! Can hardly wait to start the hunt!
Feb 10, 2011
11 people found Dennis's review helpful.
Best Detector under $500.00
Mark Meador in Texas -

I found my Compadre in a Pawn Shop. I was going to let my grandson use it. After trying it out in my coin plot, I was amazed. This detector was picking up a silver dime at a depth of 8". By turning the discrimination knob I could get a good idea of what was under the coil. The markings on the face plate are pretty accurate. I now carry this detector with me everywhere I go. My Fisher CZ-5 is still my favorite detector but this little Tesoro Compadre can put a lot of the high dollar detectors to shame. With only one knob it is my recommendation for a first detector, you won't outgrow this machine in a few months.
Jan 03, 2009
26 people found Mark Meador's review helpful.
Incredible Value
Bob in Northern Missouri -

I've had my new Tesoro Compadre since just before the Spring thaw this year (2008). It has proven to be an exceptional and a very professional machine. I spoke to two different authorized dealers in my region of the country and let them both know I was shopping for a Compadre. The first dealer said, "Oh, you want the cheap one!" - needless to say I didn't buy from him. The second dealer was located in S. Central Iowa, and was very professional and very helpful. He gave me great information, a very good price, including accessories, and shipped it so fast, it arrived the next day! I've been very impressed with this little machine. It is exremely sensitive to very small targets and performs great at finding coins. Depth of detection seems to be excellent as well. The Compadre is perfect as a disassembled, compact package to be carried within a backpack into a "backcountry" environment over a weekend or an extended period of time. I am currently working a very difficult (lots of scrap metal, everywhere) farm where I suspect there are one or more caches. I have permission from the land owner to come and go as I please, which is a wonderful situation. It's been many years since I've owned and used a detector, but I've owned several good machines (Garrett, Whites, etc.) dating back to the late 1960s. The Tesoro Compadre is a great machine and it comes at a great price. I truly believe you can't go wrong with a Compadre!
Sep 29, 2008
33 people found Bob's review helpful.
tersoro compadre metal detector
Ivan in Virginia USA -

This metal detector has a light weight, beautiful design features, simple operational modes, good depth and outstanding discrimination settings! Additional: Day one I found this machine to be ready to work! It localized 2 quarters and penny with 40 minutes (in a very broad beach area). What a joy! My other unit is now a "back up"! This one, Tesoro Compadre - is a "keeper!"
Jul 01, 2008
39 people found Ivan's review helpful.