Tesoro Silver µMax Reviews, Price and Specifications
All-Purpose Land Metal Detector
Retail Price: $299.00
Number of Reviews: 3
Avg. Rating (5.0 Stars)

Email to a friend.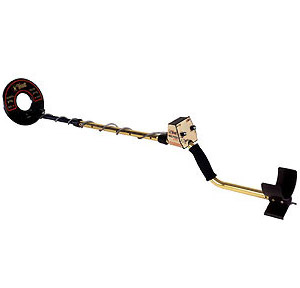 Specifications:
Operating Frequency: 10.6 kHz
Searchcoil Type: Round, open center concentric
Searchcoil Size: 8" diameter
Cable Length: Approx. 3ft.
Audio Frequency: Approx. 630 Hz
Audio Output: 1-1/2" speaker and headphone jack
Headphone Compatibility: 1/4" stereo plug
Weight: 2.2 lbs.
Battery Requirement: One 9 volt DC (alkaline)
Battery Life: 10 to 20 hours
Optimum Temp. Range: 30° to 100° F
Optimum Humidity: 0 to 75% R.H.
Operating Modes: Silent Search All Metal, Silent Search Discriminate
Microprocessor Technology
MicroMax Design
Low Noise Circuitry
VLF 10 kHz Frequency
One Drop-in 9 volt Battery
Push Button Battery Test
Silent Search Discriminate Mode
Silent Search All Metal Mode
8" Concentric Coil
Interchangeable Coils
Built-in Mineral Rejection
Lifetime Warranty
uMax W I D E Scan coil
Mel in SW Pa. -

The wide scan coil transforms it into a powerful, stable, and Accurate detector.
If you have the opportunity to add the W I D E scan coil, you will Not be disappointed.
If it is down there, the Umax will find it.
Aug 10, 2012
10 people found Mel's review helpful.
Silver U Max
Lawrence Nadwodney in Granville, Ohio, USA -

Fantastic little machine. I sold a Fisher 1266XB and upgraded to this fun detector. It is light, knocks out annoying yard iron very well. I am finding coins I missed in my yard with more expensive machines. Second day out, I even got a good gold earring with two nice diamonds. It works well over "hot rocks", close to chain link fences. If you are a coin shooter, this puppy will swing all day. At this writing, 15 hours on "Sir", which is what I named it. Same battery going strong, I don't use phones, sound is tailored for the hearing loss people. $16.92 in change, 23 cents in silver, plus some neat rings and other goodies.
Sep 26, 2008
38 people found Lawrence Nadwodney's review helpful.
This Will Keep Up With the Big Boys
Brandon Moore in west paris maine -

This is the first Tesoro I've owned and I couldn't be pleased more. First of all, don't let the size fool you, this is not a toy. It has awesome detecting depth capability: the deepest coin was a quater at 9 1/2" down in good soil. You can get several different style of coils as well. The machine itself runs on one 9 volt battery, has 2-nob control function - simplicity at its best, and is only $239.00 new. Plus it is backed with a lifetime warranty. I almost forgot to mention that it weighs only 2.2 lbs. This detector actually picked up coins which my Whites M6 left behind and that is no bull!
Aug 28, 2008
63 people found Brandon Moore's review helpful.