Tesoro Cibola Reviews, Price and Specifications
All-Purpose Land Metal Detector
Retail Price: $425.00
Number of Reviews: 4
Avg. Rating (4.8 Stars)

Email to a friend.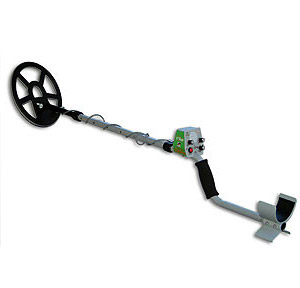 Specifications:
Operating Frequency: 14.3 kHz, 14.5 kHz, 14.7 kHz
Searchcoil Type: Monolithic (Carbon Fiber)
Searchcoil Size: 9" x 8"
Cable Length: Approx. 3'
Audio Frequency: Approx. 293 Hz or VCO
Audio Output: 1-1/2 inch speaker and headphone jack
Headphone Compatibility: 1/4" stereo plug
Weight: 2.2 lbs
Battery Requirement: One 9 volt DC (alkaline)
Battery Life: 10 to 20 hours
Optimum Temp. Range: 30° to 100° F
Optimum Humidity: 0 to 75% R.H.
Operating Modes:
Pinpoint All Metal, Silent Search Discriminate
MicroMAX Design
VLF 14 kHz Frequency
One Drop-in 9V Battery
Variable Threshold
Ultra-lightweight Design
9" x 8" Monolithic Coil
3-Piece Knockdown Pole
Lifetime Warranty
a BIG five all the time
Bill H. in san valley -

I bought the lil Cibola in August 2010. One park I had been eyeing for a while had given me three 14 KT mens rings, one lady's 14 KT ring, a bunch of 925 silver rings, one NICE long 26-1/2 inches thick mens silver chain marked "925 Italy", lots of no value rings, and earrings. I even use the Cibola at the santa Monica beach here in south California. Cibola is by far my always pick up and go detecor.
Jun 17, 2012
7 people found Bill H.'s review helpful.
Performance and Price
Don Bowers in Middletown, Pa USA -

I bought this detector as a backup machine and for something that back-packs easily. I was not too concerned about additional features. If you just want to find things deep and don't want to spend too much, you definitely cannot go wrong. This detector is a winner in the price/performance category!
Jan 17, 2012
8 people found Don Bowers's review helpful.
I can Dig It
JJ Digs in New Hampshire -

I had an ace 250 and a minelab 305 and I would say the Cibola is the best out of those and many other detectors in that price range. I have found many coins new, old and rare to make me do the happy dance here in New Hampshire. This detector is light and rugged, one 9v battery runs the show. I use headphones to hear those deep faint targets. If you crank up the sensitivity and threshold, you will find coins at 8+ inches depth no problem. I like where the discrimination knob is positioned, making it easy to turn it with your thumb while checking a targets - small gold rings just above the iron setting to big rings around the 5 cent setting. If you dig them all, you will find gold and a lot of pulltabs. The best thing I can say is that listening to sounds is better then looking at a screen like with the tdi detectors. I'm not saying this is the best detector in the world, but for the price it is. The only thing better then this would be buying a Minelab E-Trac, but that's 1500 bucks, so buy a Cibola for 340 and you will be happy.
Jun 09, 2010
25 people found JJ Digs's review helpful.
Great Machine
Trent Nunley in Minot AFB -

The only reason I am not going to give the Cibola a 5 star rating is that it does not have manual ground balance. I have used mine in many areas and have not had much problem except here in North Dakota. It doesn't seem to get the depth here as it has in other locations. Overseas I have dug musket balls at a foot deep and found very small silver and copper coins deep. It is a great performer and is only 2.2 pounds so you can swing all day. I bought the Cibola as a back up machine and ended up using it as my main detector. Now I have a Vaquero which is the same machine but has a manual ground balance. I still am not getting rid of the good ol cibola .
Mar 23, 2008
79 people found Trent Nunley's review helpful.