Tesoro Tejon Reviews, Price and Specifications
All-Purpose Land Metal Detector
Retail Price: $699.00
Number of Reviews: 4
Avg. Rating (5.0 Stars)

Email to a friend.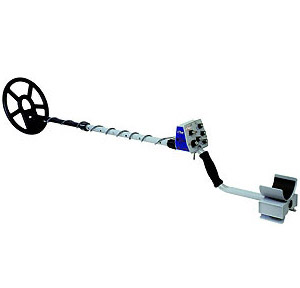 Specifications:
Operating Frequency: 17.2 to 17.6 kHz
Searchcoil Type: Monolithic (Carbon Fiber)
Searchcoil Size: 9" x 8"
Cable Length: Approx. 42 inches
Audio Frequency: Approx. 215 to 830 Hz
Audio Output: 2-1/2" speaker and headphone jack
Headphone Compatibility: 1/4" stereo plug
Weight: 2.98 lbs
Battery Requirement: Eight AA batteries
Battery Life: 20 to 30 hours
Optimum Temp. Range: 30° to 100° F
Optimum Humidity: 0 to 75% R.H.
Operating Modes:
Slow Auto-Tune All Metal
Silent Search Discriminate
Alternate Silent Search Discriminate
Pinpoint Mode: All Metal Fast Auto-Tune
Easy To Use Trigger Mode Switch
MAXBoost Sensitivity
Adjustable Audio Tone Control
3-3/4 Turn Ground Control
Compatable With Lobo SuperTRAQ Coils
Lifetime Warranty
My First Metal Detector Ever
Ritchie in long island, n.y. -

I jumped in this hobby and didn't want a piece of junk. People say it has a learning curve to it, not really for beginners, I totally disagree with that. All it took was some ground balancing videos on youtube and the Tejon was easily ground balanced 3 min after touching a metal detector for the first time. Now it's down to about 10 sec. Readjust the disc knobs(w/allen key) to disc out nickels at same point, and everything else falls in place. Simple machine with power that has me digging too deep sometimes. I need a better shovel with this machine! Not joking, if you have the extra cash, buy it right the first time.
May 06, 2013
8 people found Ritchie's review helpful.
DEEEEEEEEEEEPPPPPPPPP
Kevin Strahan in Natchez,Ms -

This thing will amaze you in depth, I get beat by this machine everytime I go out. It is probably the deepest machine made today.
Apr 17, 2013
3 people found Kevin Strahan's review helpful.
Tesoro is the Boss. No Baloney Detectors. Analog Bliss.
Chad Entringer in Green Bay, WI (USA) -

I wanted something that would go deep and be able to detect coins. It does detect coins, no problem. It's a "dime hog"! It finds coins sitting on their sides / vertical. Deep relics? Are you kidding me? Not a problem for this mean machine! No cumbersome push-buttons and menu to fiddle with! The potentiometers are the only way I would want a detector. I can concentrate on going with a gut feeling of sound interpretation vs. staring at a display. Dual discrimination is very handy. *The Tejon just "LOOKS RIGHT" *Lifetime Warranty! *MADE IN THE USA! *Analog bubble bath :)
Mar 24, 2009
23 people found Chad Entringer's review helpful.
Fantastic Deep Light-Weight Machine
Matt in Poland -

I have been a user of the Tesoro Tejon for the last 2 years. Some time ago, my friend and I compared Tejon and Minelab Explorer SE on the same target dug into a wall of a hole. Both machines were set to their maximum (disc. just above all metal, sensitivity just below the level of unstable performance, etc.). The machines had the same maximum result in these particular soil conditions (more sandy than clay). So, my Tejon proved to be a deep detecting machine. It is also a very light machine, compared to other detectors, which allows you to detect for hours without any bad feeling in your arm. Low weight might mean fragile construction, but this is not the case of the Tejon - it is made really well. Another good feature of the Tejon is its ability to find even those smallest targets of diameter not exceeding 2mm. I live in Europe where in ancient times did they make very tiny gold/silver coins or larger but very thin silver coins. Not all detectors are able to find these, but mine proved to be really good at doing that. Now, there are some bad features, too: 1. The "Disc 1/Disc 2" trigger is susceptible to moisture (it is not properly isolated). I do not advise you to walk with the Tejon without any proper panel cover in even the slightest rain or you might end up loosing Disc 1 or even both discriminations. Happened to me, I had to change the trigger for a new one (happened to other people with Tejons also). I think the mistake lies in the isolation of the trigger inside the tube which water easily gets into. 2. It is very difficult to take off the coil-cover without breaking it, therefore, do not make the same mistake as I did and remember to seal the cover with a silicone after you purchase the Tejon. 3. The connection between the lower and upper pegs uses up with time. All metal detectors have similar bad features or faults, but No.1 is very important in case of the Tejon. That is why I decided to write them all down. TO SUM UP: very deep, precise machine at a very reasonable price. After those 2 years I think the only thing that I lack in my Tejon is an LCD panel with numeric target ID. It must be fun identifying metal type by seeing numbers, etc., and I surely must have help sometimes with unstable sounds produced by very deep targets. But then I realize that it would not be the Tejon anymore or it would cost much more.
Aug 22, 2008
90 people found Matt's review helpful.