Tesoro Cortes Reviews, Price and Specifications
All-Purpose Land Metal Detector
Retail Price: $849.00
Number of Reviews: 1
Avg. Rating (5.0 Stars)

Email to a friend.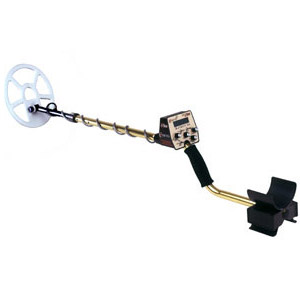 Specifications:
Operating Frequency: 10 kHz
Searchcoil Type: Concentric
Searchcoil Size: 9" x 8"
Cable Length: Approx. 3ft.
Audio Frequency Target ID Tones: Approx. 350 to 800 Hz
Audio Frequency All Metal VCO: Approx. 350 to 950 Hz
Audio Output: 1-1/2 inch speaker and head-phone jack
Headphone Compatibility: 1/4" stereo plug
Weight: 2.98 lbs.
Battery Requirement: Eight AA batteries
Battery Life (typical): 10 to 20 hours
Optimum Temperature Range: 30° to 100° F
Optimum Humidity: 0 to 75% R.H.
Operating Modes: No Motion All Metal, Silent Search Discriminate, Sum, Notch Narrow/Wide
Lifetime Warranty
Cortes Has Never Let Me Down!
Sergei from Upstate NY in Albany, NY USA -

Tesoro Cortes is still my primary metal detector for Relic Hunting. Its "love" for iron targets allows a relic hunter to hear a difference between a small and a large square nails! Also all coins give a nice solid "pop" signal which could not be confused with a "coin" signal produced by a rusty iron target. The machine is easy to operate because of its "Turn-On-and-Go" Feature (Manual Ground Balance is also available), and turning knobs allow to change settings fast. Its light weight makes it possible to metal detect for hours without fatigue. It's an optimal machine for Competition Hunts. For more details and operational tips please read my complete review (copy the link and paste it in your browser window): http://metaldetectingworld.com/metal_detector.shtml
Nov 24, 2007
80 people found Sergei from Upstate NY's review helpful.