Tesoro Golden µMax Reviews, Price and Specifications
Gold Prospecting Metal Detector
Retail Price: $529.00
Number of Reviews: 2
Avg. Rating (3.0 Stars)

Email to a friend.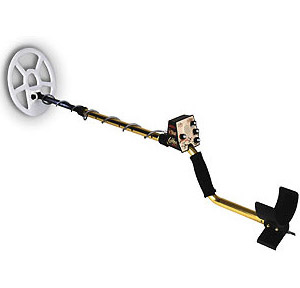 Specifications:
Operating Frequency: 10 kHz
Built-in Mineral Rejection
Searchcoil Type: Concentric
Searchcoil Size: 9" x 8" Searchcoil
Cable Length Approx: 3 foot
Audio Frequency All Metal (VCO): 260 to 420 Hz
Disc ID 4 tones: 240 Hz, 315 Hz, 370 Hz, 500 Hz
Audio Output: 1-1/2 inch speaker and headphone jack
Headphone Compatibility: 1/4 inch stereo plug
Weight: 2.2 pounds
Battery Requirement: One 9 volt DC (alkaline)
Battery Life: 10-20 hours (typical)
Optimum Temp Range: 30° F to 100° F
Optimum Humidity Range: 0 to 75% RH
Operating Modes:
Silent Search Discriminate
Notch Norm
Notch Wide (Larger window)
No-Motion All Metal
All Metal Tuning Mode: Fast Auto Tune
Positive Pole Locking System
Interchangeable Coils
Lifetime Warranty
No Depth
Bill in Michigan -

Good detector for contests and speed hunts, but if you are seeking old deep stuff, don't bother with the Golden Umax. You'd think that after all these years the detector was on the market, they'd give it a boost in power. Till they fix it... buy a different machine.
Nov 19, 2009
32 people found Bill's review helpful.
Awesome Coin Getter!
Brandon Moore in Newry ME -

This is a great machine for the parks and old houses. Why I didn't give it 5 stars was because of the lack of depth: it's good for about 6" to 7" max. But what is awsome about this machine is the tones: there are about 4 and to my ears they work great. I usually run my detector on Discrimination set at below Iron level to listen to everything the machine is telling me, and once you get that midhigh to high tone, it's almost a coin every time guaranteed. The low tones are iron, and usually a rolling tone will be like a bolt, or sometimes foil, or bottle cap, but it's a solid signal that counts - then you dig!
Apr 05, 2009
38 people found Brandon Moore's review helpful.