Minelab Explorer II Reviews, Price and Specifications
All-Purpose Land Metal Detector
Retail Price: $1,185.95
Number of Reviews: 8
Avg. Rating (3.9 Stars)

Email to a friend.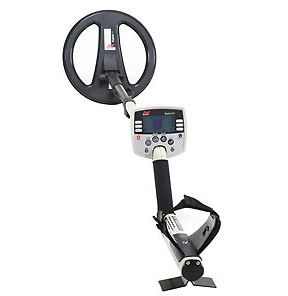 Specifications:
Configuration: Shaft mounted
Technology: Full Band Spectrum (FBS)
Transmit Frequency: Multiple Frequencies (1.5, 3, 4.5....100kHz)
Ground Rejection: Ground Compensation - advanced digital filtering
NiMH Rechargeable Battery: 9.6V, 1600mAh
Batteries: (8) 1600 mAh NiMH or Alkaline batteries
Mains Charger: 110V (USA), 230V (EU), 240V (AUS)
Digital Meter: Smartfind Technology
Detector Stand
Custom Selection Discrimination
Saved Discrimination Patterns: 6
Learn Function (Accept/Reject)
Edit Function Targets
Auto Noise Cancel (Scanning)
Manual Noise Control
User Saved Settings (audio, tones etc)
Response: Normal, Audio 1, 2, 3
Recovery: Selectable (Fast and Deep)
Coils: 10.5" Double D (DD) waterproof coil, 8" DD coil, Coil covers
Charger: 12V, Cigarette lighter plug
Weight: 3.7 lbs (excluding batteries)
2 years Warranty for Control Box
1 year Warranty for Coil
Minelab Explorer II
Pegasus in Wiltshire England -

I live in UK - and have been Detecting since 1980. Had a few detectors (Garrett Freedom, Arado, and 2 Minelabs. My Explorer II is getting old now but it works extemely well. This year's finds include 4 Romans (including a lovely Hadrian (AD117!), Hammered Silver from Elizabeth I, Edward III, and Henry V, and countless Georgian coppers. Artefacts include many Medieval Crotal Bells, a very nice Roman Brooch (AD43!) etc., etc. I'm sure many other makes of Detector would also have found them. But there's nothing wrong with the Minelab Explorer II - So don't slag them off.
Sep 23, 2012
9 people found Pegasus's review helpful.
The Best There Is - No Question About It!
Guest in Not Submitted -

The Minelab Explorer 2 will find big coins to almost a foot deep, smaller coins down to 8 to 10 inches. I know mostly what type of target I will dig before I even cut the turf. The discrimination is excellent! I have used many top line machines over the last 30 years but the Explorer 2 honestly I like the best. The machine can be confusing with its Tone ID system but it really is unbeatable once mastered. The ability to ID coins is amazing! The amount of pound coins this detector has "sucked" from fields all over the place is amazing - well over £300 just in pound coins, 20p pieces well over 500, rings and musket balls, the lot. On iron infested sites, a smaller coil will be needed, it does suffer from masking in heavy iron - yes. That's because of the big coil for the most part. On the iron infested sites, I recommend you use a faster machine if need be. I can pull pre-decimal from 1 foot almost, no problem in cleanish ground, on the beach 10-12 inches easily on coins. Hard to use? No it's simple! Most of my finds have been made in Factory preset turn-on-and-go programs.
Sep 08, 2012
15 people found Guest's review helpful.
Finds Coins Deep
Matt Randolph in Palm Coast, Fl, USA -

I recieved this Minelab Explorer II as a gift on Fathers day in 2002. I immediately took it from the box and started searching my back yard which had been searched many times with a fairly good detector. The first thing I found was a Mercury dime and it was over 8 inches deep. Since then I have found many coins at that depth and deeper. The only drawback is that the Explorer doesn't do as well near the ocean on a salty beach.
May 30, 2012
4 people found Matt Randolph's review helpful.
SILVER,SILVER,SILVER
MIchael Nehmer in SULLIVAN,WI USA -

I have been detecting for 9 to 10 years - it's the best therapy out there! I have used my fair share of detectors. And when I went out with my Explorer XS for the first time, my detecting life changed! It took me a couple of times out to learn the in's and out's of the Explorer but everything good takes some time. I have been to places with other people detecting and have found silver in the same place they have just went over. I have detected farm fields to city lots and on the beach, and have found silver coins, jewelry and even gold jewelry too. I have to tell you that just with coin shooting at a city park alone, you can fill your pockets with clad coins, not to mention the feeling you get with the sound of silver coming through your head set. That's always a great feeling! I have yet to try the Explorer SE Pro and the new E-Trac. MINELAB 4 LIFE!
May 05, 2012
1 people found MIchael Nehmer's review helpful.
hyped up product
Graham in boston ...england -

Read all the books and still cannot understand this awfull gadget machine... If you want something easy to use, DO NOT BUY THIS! There are far cheaper better detectors out there that do the same job for alot less with out the name or the cost... Totally fustrated and hate this detector.
Jan 04, 2012
3 people found Graham's review helpful.
The Emperor Has No Clothes
Jim in Shropshire, England -

The Explorer is the deepest detector I have used when conditions are right. I once dug a coin (correctly identified) from a genuine 11 inches! The trouble comes when you dig a deep target and find that it is not the coin you were promised but a chunk of iron and this is a common occurence. Discrimination (when compared to the Sovereign) is awful. The machine is fiddly and everything takes for ever. When I first got mine, I thought it was broken as it was so inconsistent and noisy. Very occasionally it works well, I think when there is not much junk in the ground. It eats batteries. The main problem is that it is so time-consuming. Perhaps it can find targets that other machines would miss, though I am not convinced of this. But even modest machines will turn up three times the coins most of the time.
Aug 20, 2009
13 people found Jim's review helpful.
The Best of the Best!
Stephen in Middletown, NY USA -

Once you really hear and understand it - it will be the greatest detector you have ever owned!!! I had mine for 4 yrs, I can't tell you here as I could write 100 pages... so believe me - it is the best!
Apr 25, 2008
10 people found Stephen's review helpful.
This Metal Detector Works Anywhere in the World!
Sergei from Upstate NY in Albany, NY USA -

After five years of using Minelab Explorer XS as my primary machine for Treasure Hunting, I recently switched to Explorer II. This model of Minelab's line of Explorers has the same advantage over other metal detectors because of its revolutionary Smartfind 2-Dimentional Discrimination and 28 Simultaneous Operating Frequences (from Super Deep 1.5kHz to Ultra Sensitive 100kHz) of Full Band Spectrum (FBS) system. No need to do complicated programming or frequent Ground Balance readjustments, simply Switch On and Go. Advanced Mode allows a treasure hunter to adjust the detector for any metal detecting situation. Minelab Explorer definitely has the best electronics. I only wish it had a better body design. For more details and operational tips please read my complete review (copy the link and paste it in your browser window): http://metaldetectingworld.com/minelab_explorer.shtml
Dec 01, 2007
65 people found Sergei from Upstate NY's review helpful.